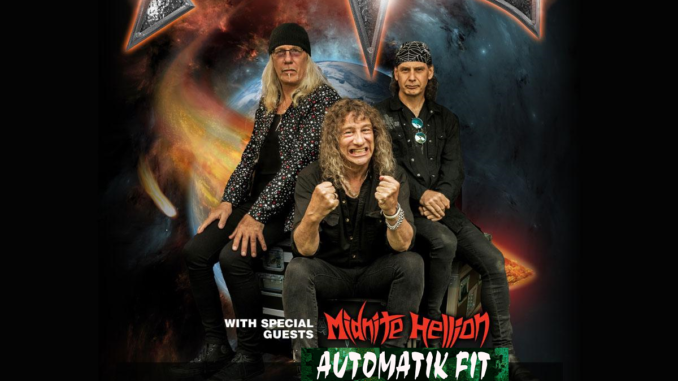 Heavy metal legends Anvil will be playing in town on April 20, 2023. The show is at Jack Rabbits and doors open at 7 pm. Tickets are available in advance for $20.
Forged in the late 1970s, Anvil quickly became one of the most iconic and most influential metal bands of the era. While their influence is impossible to deny, with bands from Metallica, Megadeth, Slayer, and Anthrax recognizing their impact on their own careers, a string of bad luck and poor management led to a period of relative obscurity following fame.
But Anvil came to rock, and the lack of stardom never slowed them down. Now touring to support their 19th studio album, Anvil will be in Jacksonville for just one night before the Florida leg of their tour continues in Orlando, West Palm Beach, and Gainesville.
Supporting Anvil through the entire tour is Midnite Hellion, a band formed in 2011 and currently promoting their second studio album, Kingdom Immortal.
Completing the lineup are local favorites Automatik Fit, back with new material, old favorites, and some lineup changes in anticipation of their first full length studio album. Be sure to follow this Jacksonville metal band to get the latest updates on more local heavy music shows in the Jacksonville area.
Help welcome these legends of heavy metal to the First Coast. We'll see you at Jack Rabbits!
Anvil
Midnite Hellion
Automatik Fit
Jack Rabbits
Thursday, April 20
Doors Open 7 PM
TICKETS AND INFO AT https://jaxlive.com/events/