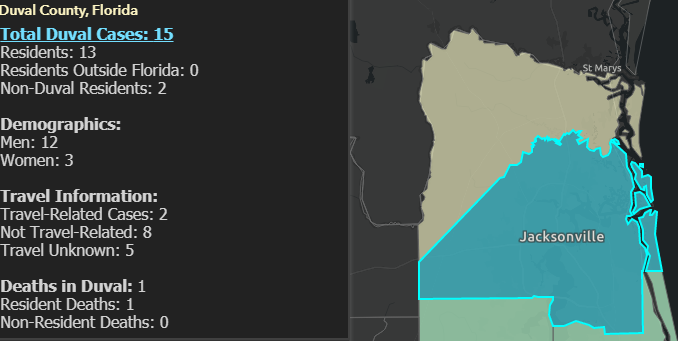 Jacksonville's schools won't be opening as scheduled after spring break, and right now the earliest they will open again will be April 15.
Jacksonville hasn't been spared by the spread of coronavirus and as of today (3/20/2020) there are 15 confirmed cases in Duval. 25 more cases have been identified in surrounding counties, bringing the current total for the First Coast up to 40.
While children are at low risk for severe infection and complications, they can still transmit the virus. As a result, one of the first reactions to the pandemic in Florida was to close the schools. Luckily for us in Jacksonville, the schools were already in the middle of spring break at the time of announcement, so parents had at least a minimal amount of notice before their plans would be completely disrupted. It wasn't much, but it is a lot more than parents in some states are getting.
Important Links and Updates for Duval County Schools
Updates: The Duval County Public School website has a special page set up for the latest Coronavirus updates, and all of the latest info will be posted here. Parents are encouraged to check this page regularly as this situation is still highly volatile and plans are changing by the day.
Survey: Parents are also being asked to complete the following technology survey so the administrators can evaluate their best options for continuing the education of students in Jacksonville.
Duval Homeroom: With a planned launch date of March 23, Duval Homeroom will be the city's online hub for home-based educational instruction. Check https://dcps.duvalschools.org/ for links after that date!
Jacksonville School Lunches and Home-Based Education
Parents will be able to continue collecting school-provided lunches during the shutdown. Meals will be available at the schools for take-out, and meals can also be picked up from school bus stops. The buses will continue their routes in the coming weeks to deliver these meals – as well as educational materials that parents can use to help continue their kid's education during these uncertain times. Buses are currently planned to follow the same schedules they maintained during normal school operation, but they'll be bringing the educational resources directly to students instead of taking the students to school.
So while this coronavirus pandemic continues to disrupt life for students and parents alike, there is still some assistance on the way. At the very least, students who rely on school lunches should be able to continue eating, and there will be some instructional materials that can help parents start to teach their kids from home. Again, it isn't much, but it's something.
School Closure Schedule & Current Summary
All Duval County Public Schools will remain closed until April 15, 2020 at the earliest
Duval Homeroom is scheduled to be online by March 23 to assist with home based learning
School lunches are available at the schools and bus stops
Parents can also receive instructional materials at schools and bus stops
DCPS will provide additional information here as soon as it becomes available